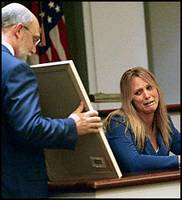 This photo was on the front page of the online version of the Washington Post

this morning

with a caption that read, "During a hearing, Cathy Hill looks at a photo of her late son, Chad." Am I the only person that finds the exploitation of a grieving mother in order to turn a profit to be distasteful in the extreme?
Click on photo to enlarge.
Photo courtesy of the Washington Post.