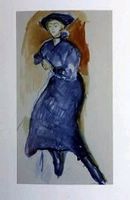 Disappointing news from Reuters:
OSLO (Reuters) - Norwegian police recovered three pictures by Norwegian artist Edvard Munch Monday a day after they were stolen from a hotel, Norway's NRK public radio said.

It said that the police had recovered a 1915 Munch watercolor, "Blue Dress," and two lithographs -- a self-portrait and a portrait of Swedish playwright and novelist August Strindberg.

Police were not immediately available for comment. (link)
Well, I have a few comments.
1) I've seen better "artwork" on a stall wall in the men's room at the Travel America truckstop over in Wytheville.
2) I've created better artwork in the snow after having consumed great quantities of Bud Lite. (Use your imagination.)
3) Now that this "art" has been found, can we lose it again?