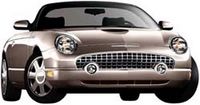 In another life, I would love to have owned one of these. In this life, though, it'll never happen now. From the Detroit News this morning:
Ford to kill T-Bird, lay off 200
About 1,500 have been sold this year; the future of Wixom plant is in doubt.
By Brett Clanton, The Detroit News



Ford Motor

Co. on Thursday announced it would end production of the Thunderbird roadster by this summer and temporarily lay off up to 200 workers.





First introduced in 1954, the Ford Thunderbird had been a staple of the Dearborn automaker's lineup until 1997, when it was briefly discontinued for a few years. A retro redesign of the classic two-seater came out in 2001 to wide praise and brisk sales. But interest quickly died.





Sales of the new Thunderbird were 19,000 in 2002 -- its first full year on the market -- but fell to 12,000 last year. About 1,500 have been sold this year.





Ford said the Thunderbird was never meant to be a high-selling model. But the car is still widely considered a disappointment. (

link

)
Disappointment? Not to those of us who appreciate genuine beauty.
Click on image to enlarge.
Photo courtesy of the Detroit News.