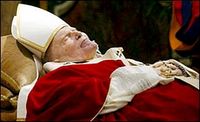 In this world full of evil people, we should never lose the precious few good ones.
Pageantry Around the Death of the Pope Begins
By IAN FISHER

VATICAN CITY, April 3 - His folded hands intertwined with a rosary, the body of Pope John Paul II was laid out inside the papal palace today as the balance of power in the Roman Catholic Church began its shift to the unnamed man who will soon replace him.

Just 15 hours after he died on Saturday night, the great pageantry around the death of a pope began, with a huge public Mass in St. Peter's Square and then the first rites of John Paul II's funeral: The 84-year-old pope was laid out in Clementine Hall, dressed in white and red vestments, his head covered with a white bishop's miter and propped up on three dark gold pillows. Tucked under his left arm was the silver staff, called the crow's ear, that he carried in public.

"He suffered a lot, and he suffered for many years," Francesco Rutelli, the former mayor of Rome and a key opposition leader in Italy, said after seeing the body of the pope, whom he had met with often over the years.

In death, after 26 years as pope, "His expression was serene," Mr. Rutelli said. (link)

Click on image to enlarge. Photo courtesy of New York Times.