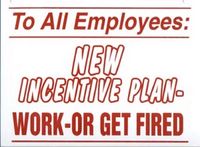 Building self-esteem in the workplace is trendy. As is "relating to the circumstances and feelings of those around you."
If you work for the government, you probably have plenty of time for such silliness.
But if you're in the private sector, where one has to actually produce a viable, competitive product or service, you'd be far better off sending the above message.
I can remember being occasionally asked, when handing out an assignment to an employee, "What's in it for me?" I'd reply, "You get to keep your job for another day."
The message was clear.
Most employees who were worth keeping and supporting - and compensating - stepped up and took on the assignment. Some failed. And bitched about their lot in life.
That is the way it is. And will always be.