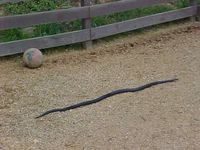 The upside to living next to a national forest is that we are able to rub elbows with all sorts of wildlife.
The downside is that we don't get to choose the species that comes a'calling.
That, by the way, is not a golf ball next to the snake. It's a basketball.
Interestingly, this was the third snake five feet or longer Paula came upon today. This one, about six feet in overall length, seemed to be on the same path as another - about the same size - that slithered through the same part of our horse paddock about five minutes before.
I thought we were going to witness snake sex for a moment (Is that sick? Probably.) but the snake pictured, for some reason, abruptly stopped at the edge of the paddock and coiled. I have no idea why.
There are certain questions
I choose to keep unanswered
.
By the way, folks around here tell me this is a baby
.
My doors are locked as I write this
.